Associates in Psychiatry & Psychology Support Staff:
Office Manager: Jessie
Accountant: Hope
Billing: Blake
Medical Assistant: Dawn
Front Desk: Angela
IT Director: Steve
Administrative Staff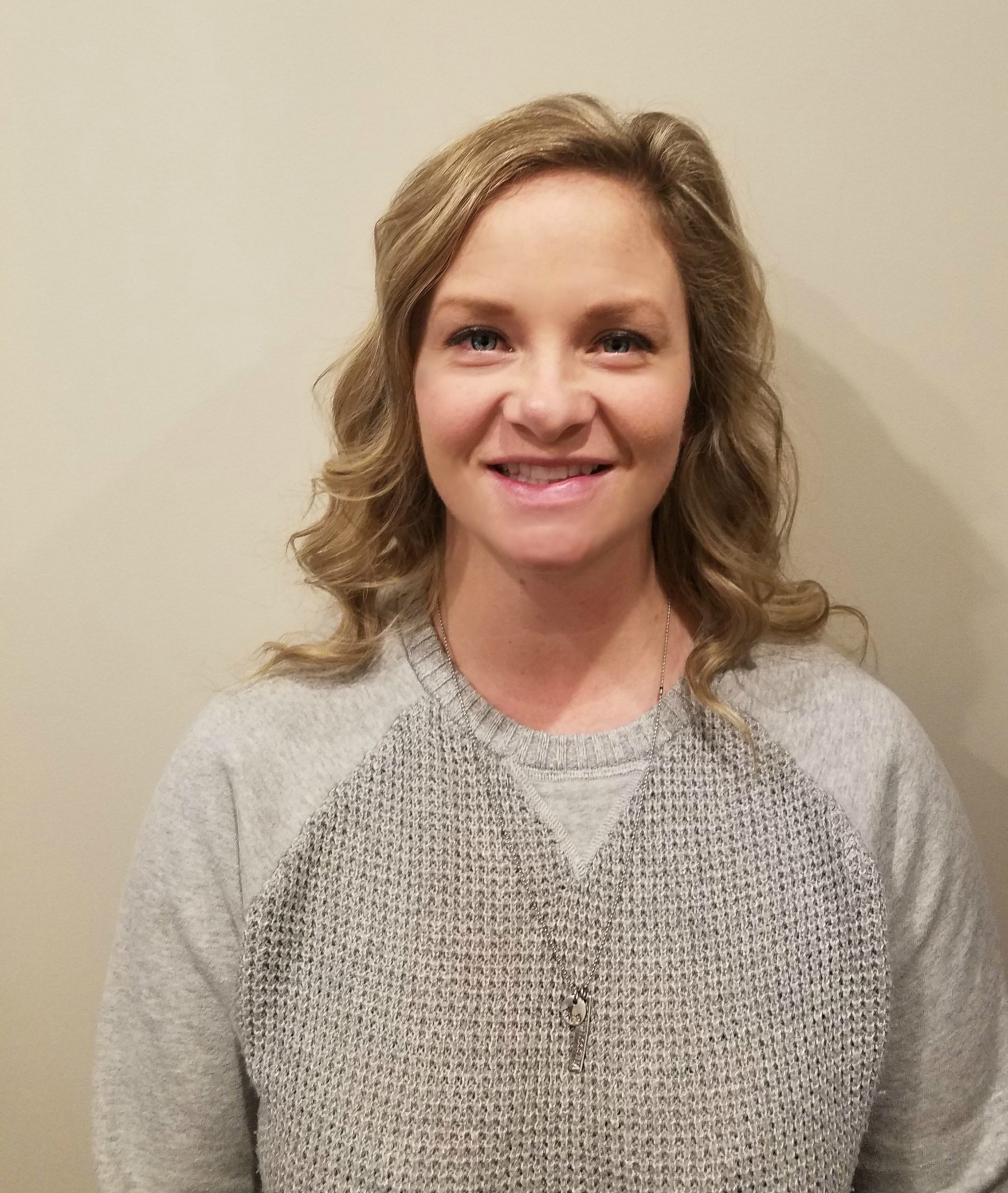 Jessie Maes, Office Manager
Dawn Hoppe, Support Services
Chelsie Wehner, Medical Assistant
Kathryn A. Amundson, Ph.D. MSW LICSW
Kathryn ("Katie") brings over 30 years of experience to APP. Katie works with clients across the age spectrum (6+ years and up). In addition to individual and group psychotherapy, her specialties include: play therapy, couples, and family therapy. Areas of interest include: depression (particularly with seasonal components S.A.D.), life transitions (adolescence to young adulthood, divorce, etc.), PTSD, stress management, grief and loss. Research interests include: the correlation between attachment and PTSD; depression in children; and the influence of fathers on adult development in their children.
Libby is the 4 year old Samoyed who succeeded Katie's TDI certified therapy dog, Lexi. Lexi crossed – over this spring after 10 years of loving and supporting clients. Given the sadness experienced by those who knew Lexi, Katie knew there had to be a therapeutic successor. Then she met Libby, also a former show dog. The connection was immediate. While Libby is new to her "office" life, she is affectionate, bright and inquisitive. She loves people, is fearless and tunes in to clients very quickly. She and Katie are a great team. Libby is a welcomed addition to APP.
Laura Cosio, MA LMFT
Laura is a Licensed Marriage and Family Therapist. She received her graduate degree from Bethel Seminary in St. Paul, MN. She began her career as an in-home therapist working with children and their families. She works with children, adolescents, and adults providing individual, couple, and family therapy. Laura has experience in the areas of family therapy, premarital and marital counseling, stress management, anxiety, depression, trauma, grief, and behavioral disorders. Laura is certified in the Prepare and Enrich Inventories that focus on premarital and marital relationships.
Kelsey Kitzmann, MS, LMFT
Kelsey is a Licensed Marriage and Family Therapist. She completed her training at Iowa State University. She began her career as an in-home therapist working with children and their families. She works with children, adolescents, and adults providing individual, couple, and family therapy. Her areas of expertise include: trauma, abuse, grief, attachment, behavioral disorders, adoption, foster care, and family therapy.
Dr. Kocian, PsyD, LP

Dr. Kocian was licensed as a psychologist in 2012 and enjoys working with adolescents, young adults, adults, and couples. She brings a holistic approach to her work with clients, utilizing a mind-body approach to therapy while operating from a DBT/CBT framework. She has worked extensively with anxiety, depression, trauma, poor body image, relationship struggles, and personality disorders. Dr. Kocian is also a trained yoga instructor and specializes in yoga psychotherapy, a body-centered approach to therapy that utilizes yoga postures, breathing exercises, and meditation to promote healing on a deeper level where stuck emotions and trauma can reside. Dr. Kocian takes both an empathic and directive approach to therapy, leading clients to feel better and achieve their therapeutic goals quickly.

Franklin D. Merchant, PsyD
Dr. Merchant is a passionate practitioner with a sub-specialization in forensic psychology. Frank utilizes cognitive behavioral therapy (CBT) for adult and adolescents with emotional, behavioral, and adjustment problems such as trauma, anxiety, stress, depression, and relationship problems.
Kristine M. Meyer, MA LP
Kristi has been a Licensed Psychologist since 1996 providing therapy to adults, couples, and children from a cognitive-behavioral perspective. She also specializes in providing psychological assessments and testing for children and adults. She has special interest in ADHD, stress management, and anxiety disorders including panic, phobias, OCD, and social anxiety. Kristi has also been teaching in the graduate program at St. Mary's University since 2008
Dr. Vivek Prasad, MD.
Dr. Prasad is an ABPN board certified adult psychiatrist who trained at Indiana University.
He treats a wide variety of conditions including addiction, anxiety, depression, sleep problems, obsessive compulsive disorder, attention deficit disorder, ADHD, post-traumatic stress, phobias, and relationship issues.
Dr. Prasad works with patients to achieve the best desired outcome possible and is open to exploring medication or alternative treatment options. He provides patients with a number of tools to cope with the stress and uncertainty of life so that they can achieve a healthy balance in all areas of their life.
James P. Rechs, LICSW, BCBA
James specializes in anxiety and depression, work related stress, grief and loss, health and wellness goals, family and marital conflict, parenting, attachment issues, autism and developmental disabilities. He provides individual therapy with adults and adolescents, couples therapy, family therapy for families with children of all ages, and parenting support. James believes that social, psychological and emotional difficulties are not signs of abnormality, but rather a reflection of the diversity of human experience. James believes that people of all ages, experiences and ability levels are capable of learning, growing, changing and living their lives more fully.
Sherryl St. Martin, RN, DNP
Dr. St. Martin has worked as a psychiatric nurse since 2010. She has experience working in both inpatient and outpatient settings and has worked with pediatric, adolescent, adult and geriatric patient populations. Dr. St. Martin received her Doctorate degree in Psychiatric Mental Health Nursing from the University of Wisconsin-Madison in 2015. She is board certified to provide psychiatric diagnostic evaluations, medication management, and psychotherapy to patients of all ages. Dr. St. Martin is passionate about navigating practical, yet meaningful, patient-centered solutions pursuant to the health promotion continuum. She welcomes patients of all ages.
Dr. St. Martin is a veteran of the United States Army Reserve. In her spare time, she enjoys recreational activities, music, traveling, spending time with her pet weimaraner, and most importantly her loved ones.
Melissa Schultz, M.Ed., M.S., Dipl. O.M. (NCCAOM)*, L.Ac
Melissa is a graduate of the American Academy of Acupuncture and Oriental Medicine in Roseville, Minnesota with a Master's of Science in Oriental Medicine (M.S.O.M.) She is nationally board-certified (NCCAOM) for both Acupuncture and Chinese Herbology (Diplomate in Oriental Medicine) and is licensed by the Minnesota Board of Medical Practices in Acupuncture (L.Ac). In addition, Melissa is committed to reframing these ancient healing traditions in a modern context and dedicates a great deal of time researching evidence-based integrative medicine to bring a comprehensive and integrative understanding of health to her patients. Acupuncture and oriental medicine treat a wide range of diseases and is endorsed by the World Health Organization (WHO).
Rebecca Vigars, MA LMFT
Becky has been licensed and in practice since 1998. She enjoys working with individuals, couples, families, children, and adolescents. She has experience helping individuals overcome the effects of trauma (past and present), depression, anxiety, as well as anger management. Becky helps couples achieve better communications and thereby have increasingly deeper and more satisfying relationships. She also enjoys helping parents develop positive parenting skills and strategies. Becky has extensive training and experience working with children and adolescents in all areas that affect their lives from domestic violence, addiction, physical and sexual abuse, divorce, ADHD, behavior, and school issues. Becky has worked with children in foster care, as well as with foster parents and parents working for reunification. She also has experience working with adoptive families and children.

Debbie O'Meara
Debbie has her certification in Integrative Nutrition and Functional Medicine and is currently completing her BS in Nutrition Science.
Debbie enjoys working with all chronic illnesses related to immune-system dysfunction and any illnesses due to inflammation by providing an individualized nutritional therapy program.
For information on her business please check her website at www.autoimmuneangels.com.

Bonita Patton, PhD, LP, LMFT – Owner/General Manager (1958-2018)
Dr. Patton was a Licensed Clinical Psychologist, and a Licensed Marriage and Family Therapist. She was certified in clinical hypnotherapy and Level II EMDR. She worked with patients of all ages and specialized in PTSD, childhood and adult trauma and dissociation, pain management, phobias, gender dysphoria, premarital and marital counseling, work stress, parent-teen issues, and recovery from addictions and habit disorder.
Bonita owned and operated APP from May of 1997 until she passed away in October of 2018 from metastatic breast cancer. Bonita's husband Steve is overseeing operations while the ownership is being transitioned to another mental health professional.